Bicycle Sports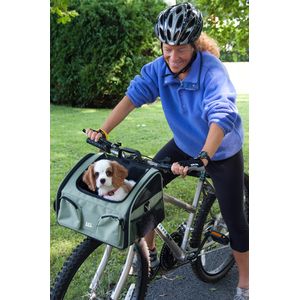 As biking enthusiasts, we can't wait to get outside and hit the trails. Wouldn't the ride be more fun if you could bring your best friend along?
More biking enthusiasts are bringing their pets with them on bike rides to beach, the park and just around the neighborhood. Some are even trying a relatively new activity called "Bikejoring" that involves dogs pulling you on your bicycle. Great exercise for them, especially the larger breeds that have ancestors who have pulled sleds in the past. However running alongside or pulling a bike safely and at a pace that works for both of you takes training and in many case the right gear.
Dogs, as well as humans, have been known to be distracted by things along the road or path (think squirrels or other dogs for example) so it's important that your dog is trained well and especially trained to voice commands. Having Fido unexpectedly head off the path to follow some new smell he has found can have disastrous consequences for them and you. If you are thinking about taking your four-legged companion with you on your next ride, you'll find some of the information in these articles very helpful. Read about Bailey our 3 year old Golden Retriever who is learning how to bike to see what it might be like from the dog's perspective and maybe you won't assume they understand too much! Soon you and your pal will be having fun biking everywhere you like. Read on and have fun.
Bicycling with pets should be done only if you are a comfortable bike rider yourself and you test short jaunts with your pet in advance.
Read More
Bikejoring is a recreational activity with dogs that is best suited in fair weather. Much like dog scootering or canicross, a dog pulls a cyclist. This activity can either be for fun, or some serious bikejorers compete in bikejoring races using one or more dogs.
Read More
Sharing is Loving